A wedding venue where your wedding can be more than amazing
You can make one of the most important days of your life unforgettable and impress your guests by choosing a beautiful and professional wedding venue.
There is a really wide range of wedding venues, and which one will be your dream venue depends solely on you. The criterion of an ideal wedding venue is really subjective, so we would like to help you decide, right from the start, whether you are really looking at the right website designed just for you.
The perfect wedding venue for you is the Fenyőharaszt Castle Hotel**** if you are looking for a place that:
| | |
| --- | --- |
| | Is located in Pest county, close to Budapest (50 km) |
| | Is found in a wonderful, green environment, in the heart of an ancient park |
| | Where an outdoor civil ceremony can be held among the trees, as a kind of fairytale forest wedding 🌳 |
My grandfather said the day after the wedding, "Well, it was a miracle, as if I was in a movie!"

Jenesi Krisztina & Bujáki Attila
Click here to request a quote!
Based on the above mentioned, does it seem that the Fenyőharaszt Castle Hotel could be an ideal wedding venue for you as well?
Then let's look at it in more details!
| | |
| --- | --- |
| | Are you planning a wedding event for 20-200 people? |
| | Would you like to book accommodation for the wedding party so that the party could last until the morning, without a closing time? (minimum accommodation for 64 people on Fridays and Saturdays) |
| | Are you looking for a high-quality wedding venue close to Budapest, next to the M3 motorway? |
| | Have you envisioned your wedding in a natural, captivating and beautifully green environment? |
| | Would you like an outdoor civil ceremony and dinner? |
| | Is it important for you that we should help you organize the event, with a bunch of professional wedding service providers at your disposal? |
| | Do you wish to have a flexible and professional team with 18 years of experience as a wedding planner to help you on the Big Day? |
| | Do you think it's important to serve your guests with your own, home-made cakes at the wedding? Do you want to bring in brandy and wine? You can all do that at us! |
| | Do you like predictable, fair prices and you don't like hidden costs that pop up later? |
The castle was the first and only venue we looked at because after the visit to you, we didn't even think we could have our wedding anywhere else. And life has proven that we made the right decision!

Mariann Muray and Andris Paradi

Are you wondering what kind of wedding venue the Fenyőharaszt Castle Hotel is?
Watch Tünde and Gergő's wedding film!
Exclusive wedding venue for weddings for 20-200 people
You can be the exclusive users of the castle - the Lord and The Lord Lady of the Rings, if you like - as we only hold one wedding event at a time, so there are no others at the wedding venue but you and your dear guests.
The room for the dinner, which is served in three connecting rooms, can comfortably accommodate 90 people and even has 50 square meters of dance floor.
And if you want a truly stunning dinner venue, be sure to visit us and take a personal look at our 375-square-meter wedding party tent decorated with beautiful white satin drapery and equipped with crystal chandeliers. It is set up in front of the main façade and can be heated with heat candelabras on cooler evenings. The side of the tent can be pulled away, so the beautiful green surrounding can also prevail wonderfully. The party tent, in addition to being beautiful and spacious, even provides protection from unpredictable weather. The maximum capacity of the tent is 222 people.*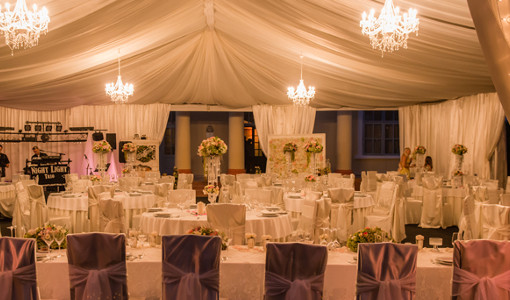 Our friends demand that we should have a repetition next year, and we don't need more convincing feedback that everyone had a good time!

Bogárka Iglódi and Balázs Szőllősi
Do weddings where guests also receive accommodation really work better? What could be the reason for this?
| | |
| --- | --- |
| | Your guests don't have to coup themselves at home, they don't have to arrive at the wedding venue dressed up and with smudged makeup. After occupying their rooms, they can change their clothes and refresh themselves before the ceremony. |
| | Since they don't have to think about how to get home, they can relax perfectly, focus on what is going on, and have their real party face emerged. They can lay their partying heads on soft pillows and rest afterwards. Having enjoyed a substantial breakfast, they can say goodbye to the ones, responsible for the mood. |
| | The party won't be over early, in fact it'll be more likely to last until the morning. |
In the castle we can comfortably accommodate 64 people on a basic beds, and by placing extra beds, we can accommodate some 152 people in 22 rooms in the main building and in the four external apartments. For Friday and Saturday weddings, a minimum of 64 people must be booked.
In order to ease your budget, you can ask your guests to chip in with the cost of accommodation even with a symbolic amount, so their accumulated amount on their SZÉP card can also be used with us, what is more they will definitely help you.
Without booking accommodation, your guests will have to somehow get home in the middle of the night. Whether they have to travel just four or eighty-four kilometres, the main thing is that they have to get home safe and sound. In fact, after the midnight meal parties where guests are not booked usually come to an end.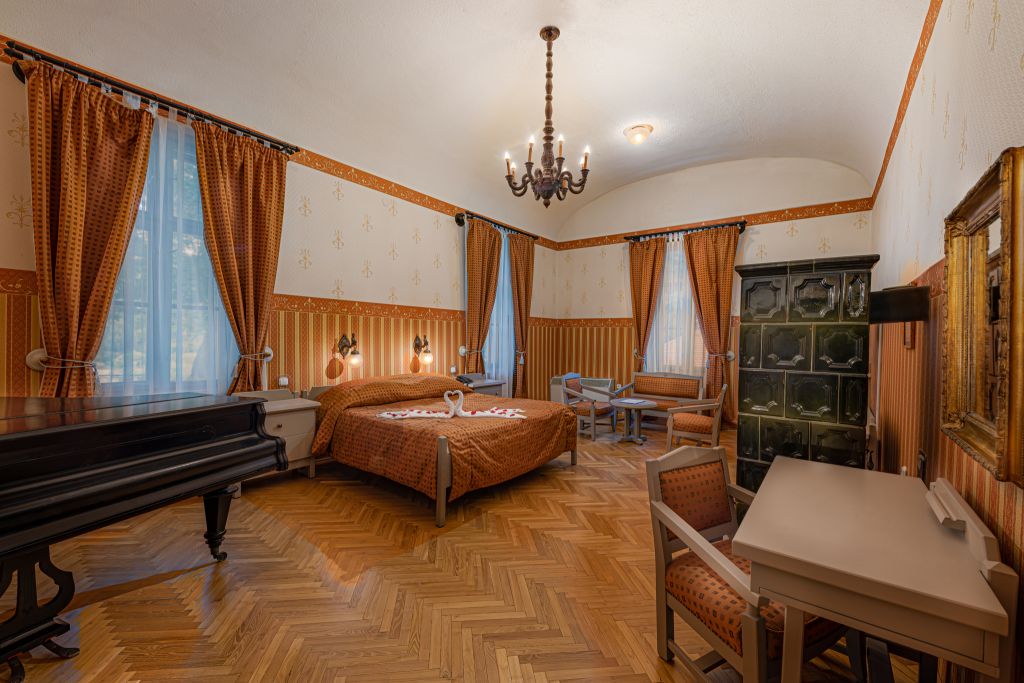 The whole day was spent as we imagined: cheerful, liberated, without fuss or haste, with a beautiful ceremony, a delicious dinner and a party that lasted until the morning!

Fernanda Kovács and Ervin Jávor

Wedding venue in Pest county, 40 minutes from Budapest
If it is important you that your wedding should not be memorable about the complicated, lengthy journey, then an easily accessible wedding venue is ideal for you. Our castle hotel is located 8 kms from the M3 motorway, only 40 minutes from Budapest, in Pest county. It is useful to know that the Pest county motorway sticker is valid up to exit 55, so it can even be used at the Kerekharaszti Rest Area (exit 51).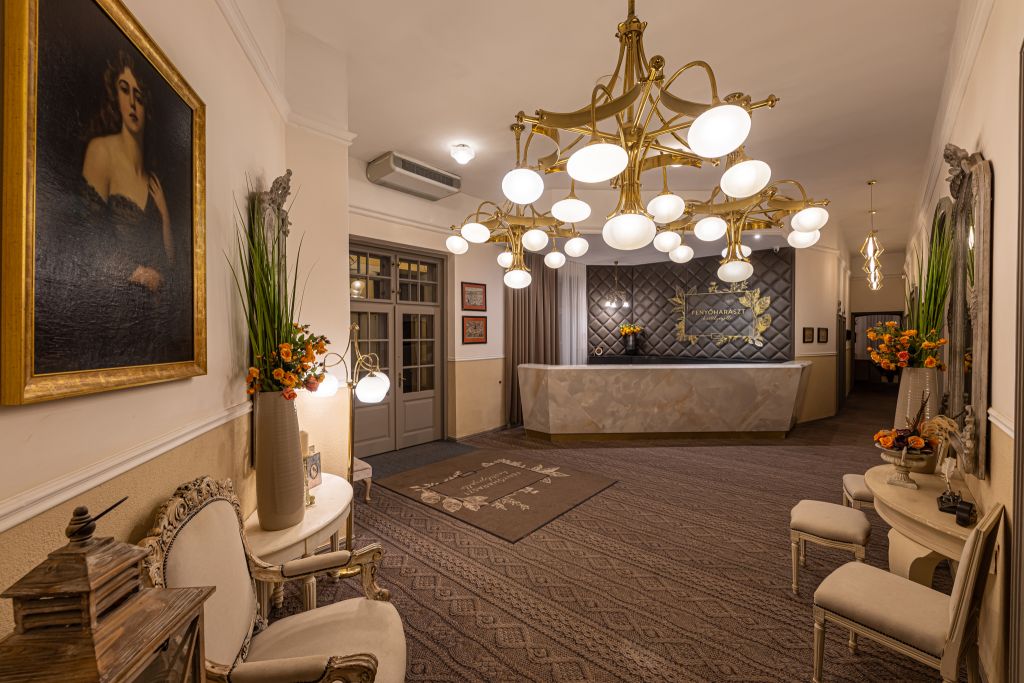 Immersive, beautiful green environment
On roads that cross fields, the traveler arrives at a wonderful oasis, where the play of lights and shadows instantly enchants the visitor who enters the gate. On your wedding day, every nook and cranny of the 13-acre ancestral park full of huge trees is yours. The soothing splash of a garden pond and fountain full of water lilies in the front garden instantly makes you forget about the hustle and bustle of the city, and the fascinating party tent on the back terrace - like a fairytale gingerbread cottage - opens onto the forest.
Down in the valley, our two pools are lazily lounging, which - from the end of June to the end of August - are waiting for you and your friends to have a proper rest after the long and may be tiring night. Their cooling waters will surely refresh you. Our animal park and the trampoline on the playground provide an uplifting relaxation for the little ones both on the wedding day or the next one.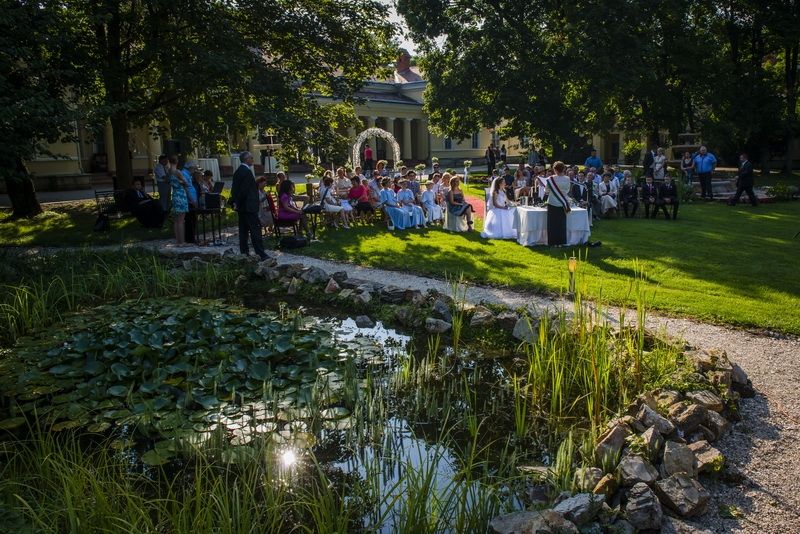 Outdoor civic ceremony and delicious dinner in the soft lap of nature
In the Fenyőharaszt Castle Hotel, you can choose the venue for the outdoor ceremony. Two of the four well-established sites are located in the front garden – either between the small pond and the fountain or on the left side of the fountain under the trees. The two other ones are to be found in the back park - next to the large pond or in the forest, for lovers of a real romantic forest wedding venue. Come and take a look at us and if you fall in love with any other corner of our park, there is no obstacle on our part, wherever you wish, we will arrange the venue for your ceremony.
In the park of our castle, the romantic forest atmosphere has always been given, but somehow we had to eliminate the unexpected whims of the summer weather. That is why we chose the 375 square meter white party tent, which is decorated with beautiful white satin drapery and equipped with crystal chandeliers, thus becoming an elegant, spacious, and a mesmerizing venue for a delicious wedding feast. In a covered and safe place, yet in a wonderful green environment, your guests can enjoy the festive dinner, as the sides of the tent can be pulled apart. On cooler evenings, high-performance heat inlets and heat candelabras ensure a pleasant temperature in the tent.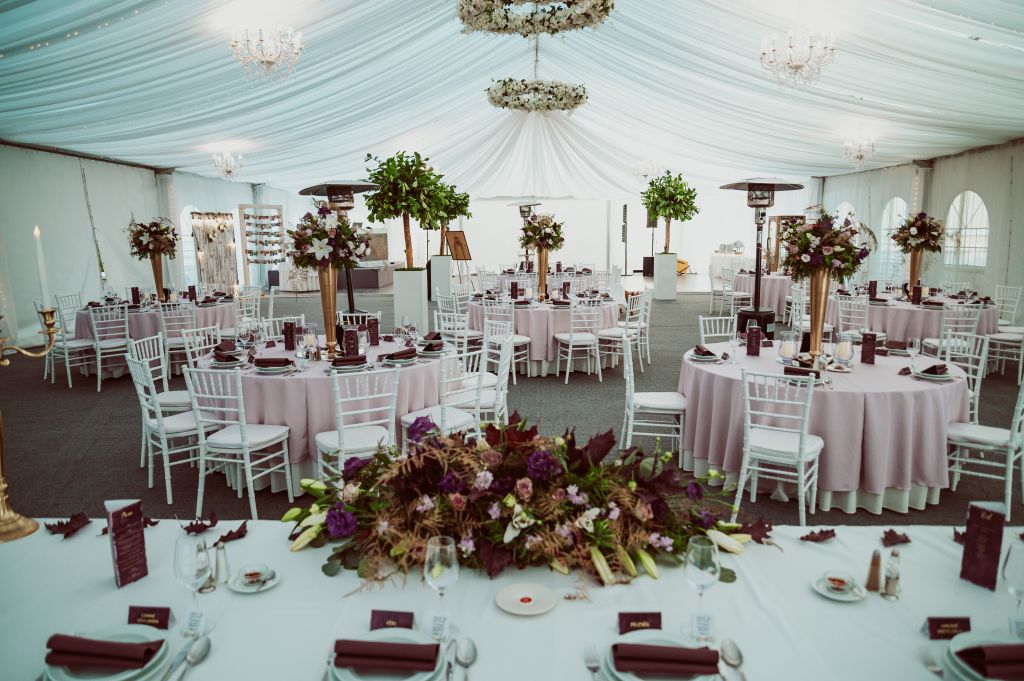 Your supporting ideas were very much convincing, but if you thought it was necessary, you put us on a better path, providing us with useful advice.

Ági and Walter
18 years of wedding experience
We have been organizing weddings since 2004, and during this time more than 1000 couples have decided that the Fenyőharaszt Castle Hotel is their ideal wedding venue. We carried out an opinion poll to see how they made their decisions. Based on the responses of the wedding couples surveyed, the magic of the venue was the primary consideration, while the second place was taken by the flexible, direct and cheerful way of keeping contact.
We've seen "a few" weddings in the previous 18 years, and we are well aware that no two couples are alike. We do not impose our own entrenched habits on you, we treat you according to your individuality. Of course, if you ask our opinion, we will tell you about our experience, but the final decision will always be based on your ideas.
That's the big secret! 😉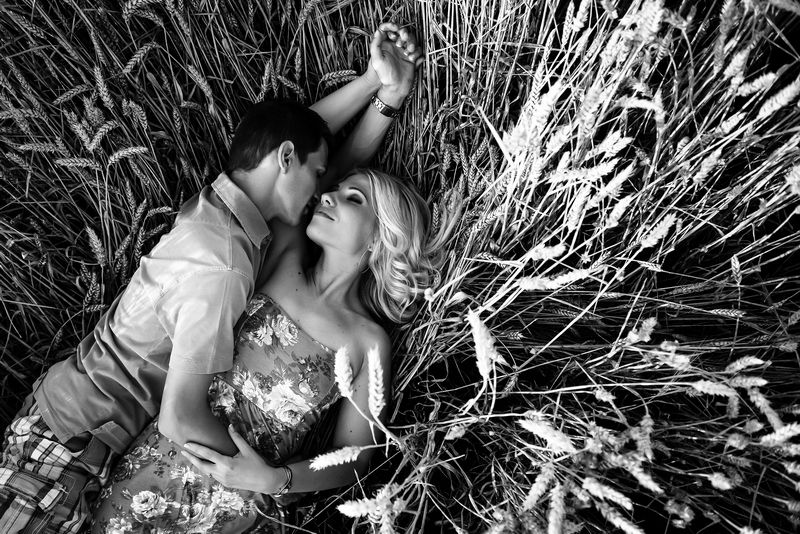 The whole team is dedicated, sincerely kind, helpful, enthusiastic, professional and, last but not least, blessed with a huge sense of humor!

Zsuzsanna Kurucz and Krisztián Nagy

We have no hidden costs, no small print!
In the excel table on our request for quotation page, you can immediately view our prices and get information about the minimum number of people, or you can also request a wedding offer from us by using the form below. In the table, the unit prices and headcount, as well as the total amount, are also indicated and formulated. If you want to change the number of people, the total amount in the table will automatically change according to the number of people, so you can easily make your wedding budget. This quote will be the basis of the future settlement, which will be corrected by using the final number of people submitted 5 days before the wedding and the actual amount of the deposit and advance paid.
What to do next?
If you like our quote and you have decided that Fenyőharaszt is the ideal wedding venue for you too, we will send you a draft contract, accompanied by the quote you have accepted. Naturally, you can read the contract before signing it and, if you wish, you can amend it.
At the same time as signing the contract, the deposit can be transferred or paid on the spot, for which we will provide an invoice and a receipt.
Until the wedding, anything can be modified by mutual agreement in the offer inserted into the contract.
We had a great time, if we were to remarry, we would still choose Fenyőharaszt.

Anita Bodnár and Mátyás Hesz

Contact us!
Click on our quotes page, where you can immediately view the wedding offers categorized according to the number of people or fill out the form below, based on which you are guaranteed to receive our offer for possible dates within 24 hours!
If you do not receive our offer, please check it in your junk mail folder, as we will always reply to your mail within 24 hours!
If you are wondering how many people we can accommodate in the castle, click HERE!