Accommodation in the castle
It is a well-known FACT that parties where guests don't have booked accommodation finish after the bride dance, because they still have to travel home.
It doesn't matter if you have to travel 5 or 50 kilometers, if that is the reason why you can't hang out with the other guests all evening, you can't fully relax, because you're already thinking about going home during dinner...
You don't want a wedding like this and you surely don't want a wedding venue like this, do you?
It is useful to choose a place where there is accommodation, because your guests can relax from the toils of your wedding, and they do not have to worry about the way home, they can have fun carefree until the morning.
The next day, you can receive the accolades for your wedding at a hearty breakfast, say goodbye to the guests, and even go to the beach with friends in the afternoon.
It doesn't sound bad, does it?
Since we are primarily a hotel, we can only undertake wedding events if you book accommodation. That's a minimum of 64 guests on Fridays and Saturdays.
Your invited guests can dispose of 22 rooms and 4 apartments, most of which are double, except for the apartments, which are for 4 people. A total of 64 people can be accommodated on a normal bed, but with an extra beds we can provide accommodation for up to 152 people.
In the downloadable room list below, the basic beds are marked by a blue cell, and the extra beds that can comfortably be placed in the room are marked by yellow.
If you don't want to book accommodation – at least not for 64 people – or just want to save a little, ask for a discount offer for Sunday.
See what rooms you can place your guests in. Here are our rooms:
See where the rooms are located in the castle.
Here is the floor plan of the castle: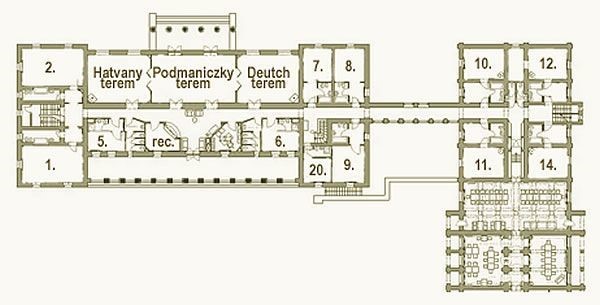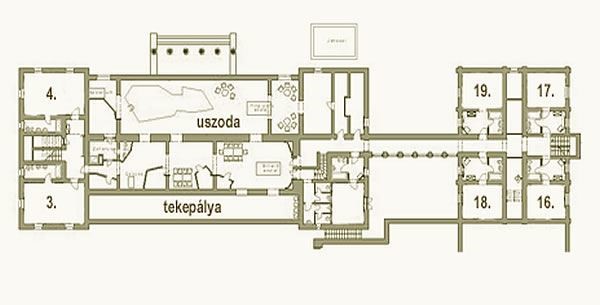 We would like to draw your attention to the fact that our rooms on the basement level are not really in the basement, they are just called so. The building is surrounded by a deepened courtyard, so the rooms in the basement have direct garden access and a terrace, from which you can reach, for example, the hot tub directly, without stairs. We guarantee that our rooms in the basement level are full-fledged ones.
Our attic rooms are located above the rooms 10-11-12-14, in the attic. Our apartment house is located 20 meters from the main building. Apartments K1 and K3 are in the attic, apartments K2 and K4 are on the ground floor.
Contact us!
Fill out our wedding request form, which takes only a minute and costs nothing, or check our wedding offers or write to the eskuvo@fenyoharaszt.hu email address. 😉
You will receive our offer within 48 hours. If you do not receive it within 48 hours, please check it in your junk mail folder, because we ALWAYS respond to mails within 48 hours.