What should be the wedding menu?
Obviously, one of the most important factors is the right amount and quality of food. Although it is not possible to meet the individual needs of every guest, but we must strive to ensure that everyone can find something to his liking...
If you have no idea, feel free to entrust yourself to us. You have to organize just one wedding, YOURS, but we have already had more than 1000... 😉
"If the food at the wedding is good, we have already won the case!"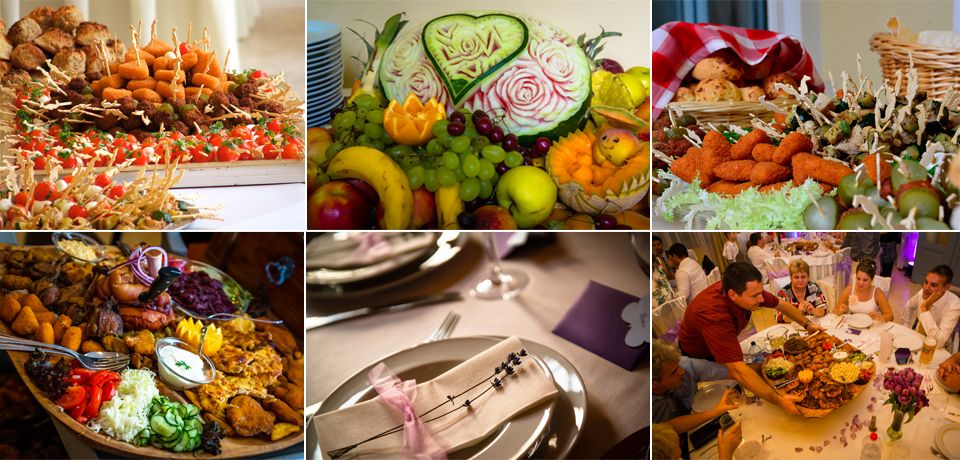 Dear Eve, Dear Zsolt,
It's hard to put into words how joyful and great this day was. Thank you very much to all the employees of the Fenyőharaszt Castle Hotel on behalf of our family and friends, for what you provided us on June 11th. The food was very tasty and plentiful, and the drinks and cocktailbar were downright excellent and even richer. Special thanks for your maximally helpful human attitude, it really helped us to organize well. We will return to you, cheerfully as always. With hugs and affection!

Zsuzsi and Dani
We do not impose anything on you, we put everything together according to your needs, so if you cannot find the delicacies you like in our list below, do not be disappointed, we will try to make your culinary dreams come true. 😉
Guest waiting reception
The first impression of the wedding venue is made when welcoming guests, so it is very important to offer guests -arriving at the venue- some food and drinks after a lengthy and tiring journey. Then your guests can occupy their rooms where they can refresh themselves. It is advisable to compile the contents of the guest waiting reception depending on the length of time spent from arrival at us to the start of the dinner.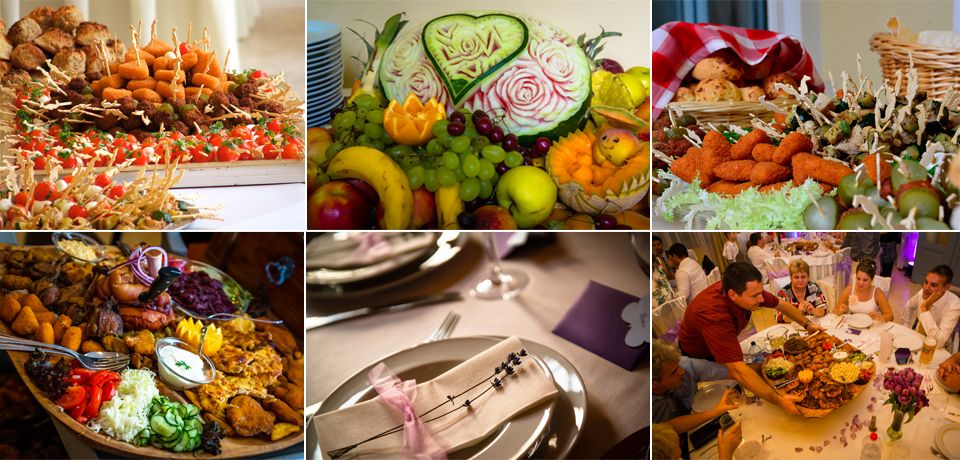 If you don't have any ideas for the content of the guest waiting reception, feel free to have a look at the list below!
Salmon, country ham, salami and camembert cheese sandwiches
Freshly baked cheese, crackers, shallots and sausage scones (2 types to choose from)
Breaded camembert snacks
Mini meatloaf balls
Jalapenos cheese balls (hot)
Cheese-ham croissants
Mini mozzarella balls with cocktail tomatoes and fresh basil
Breadfly
Potato salad with mayonnaise and red onion on a bed of boiled-smoked tarpaulins and ham rolls
Gourmet artisan ham and cheese platter from the masters of Bükk cheeses, with freshly baked baguettes and dips (green-spiced buttercream, eggplant cream, Hungarian buttercream)
Mini potato buns
Green salad with dressing
Fruit bowl
After the official ceremony, the photo shoot and the free program, the long-awaited wedding dinner can begin, which can be in the indoor halls or in the 375 m2 wedding tent on the back terrace, decorated with white satin materials and illuminated by crystal chandeliers.
After eating and drinking, all that's left is to party until morning and relax in the rooms.
You have dreamt of such a wedding venue, haven't you? 😉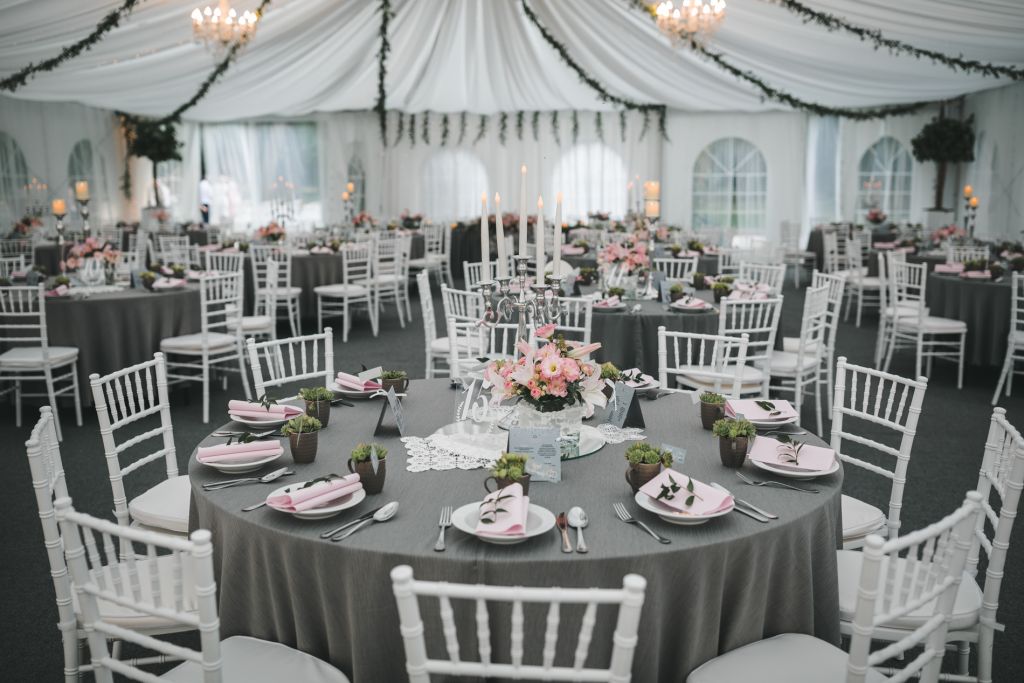 Come and pay us a visit personally!
Dear Zsolt and Évi,


...and Judit, Balázs, Norbi, Hali, Sanyi, Gábor, Veronika, Anita, and everyone whose names we unfortunately do not know. Thank you very much for all your knowledge and expertise to make our wedding (plus our pre- and after-party lasting for almost 3 days :)) as successful as possible. You made us feel that the castle belonged to us for a long day. Special thanks for the warm welcome both to us and our guests, who also really liked the wedding venue, the food and the service provided. We will return to you and promote your good reputation.

Albin and Agnes
Festive menu – one of the most important factors
No one expects you to make a final decision on the wedding menu, as everything can still change until the wedding. However, it is absolutely necessary to compile a list of food on your menu so that we can send you an individual quote. If you have neither ideas nor time, you can let us compile the menu, but we are also waiting for your individual ideas, as this is YOUR BIG DAY! If you don't get along with the menu, we're very happy to help you put it together, just let us know what kind of wedding dinner you'd like.
A wedding dinner can be a seated bowl service type, when the waiters bring the dishes to the tables, or it can be a buffet style, when guests can choose the snacks they like from a buffet table.
The two types can be combined, at which point the soup is served in bowls and brought to the table, giving the festive character of the wedding dinner. After that, the main dishes can be eaten from a buffet as each guest wishes.
In the summer months, grilling, oven food and the piglet baked in the oven, are very popular.
Recommendations for cold appetizers
Cold goose liver fried in fat on crouton with fresh vegetables
Smoked salmon roses with dill-horseradish mousse
Eggplant cream on crispy corn pie
Smoked quail eggs with vinaigrette sauce
Grilled goat cheese with nuts and currant jelly
Grawlax pickled salmon with lime-avocado mousse
Rosé duck breast slices with plum chutney
Cold-smoked trout
Other appetizers that are not listed, but you like
Mixed plate (3 appetizers selected from the list above)
Soups
'Újházy' hen soup with noodles, country style
Tarragon-flavored game soup flavored with cream and mushroom
Pheasant broth with meatballs flavored with chives
French onion soup
Strawberry/raspberry cream soup
Boletus cream soup
Greek fruit soup
Other soups that are not on the list, but you would love to see them on the menu
For wooden bowls or for the buffet
Oven-baked duck legs served with onion-mashed potatoes and stewed cabbage
Piquant ribs (with spicy, tomato smoked ragout, ribs baked with cheese), served with rizibizi
Medalions rolled in bacon with green pepper sauce and potatoes
Turkey breast stuffed with smoked cheese and bacon, with spicy steak- potatoes
Mozzarella pullet breast seasoned with basil, served with parsley potatoes
Chicken breast in almond coat with corn rice
Smoked-boiled knuckles with homemade horseradish
Corn coated chicken leg fillet
Stuffed chicken legs 'Gödöllő' style
Breaded mushroom heads, breaded cauliflower with tartar sauce
Breaded cheese bites with tartar sauce
Pike perch fillet rolled in bacon, with asparagus and potatoes with spinach
Medalion, stuffed with prunes and camembert cheese, served in walnut cover, with jasmine rice
Baked eggplant seasoned with delicious cheeses and stuffed with vegetables
Oven-baked crumbly meat (ribs, chicken legs and knuckles) – only for buffet
Venison stew with dumplings – only for buffet
Tenderloin "Stroganoff" style with princess potatoes – buffet only
Grilled pike perch fillet with white wine-shallots sauce – buffet only
Chicken breast bites marinated in wine in buttery, prunes ragout – only for buffet
Slow-fried chicken breast with forest mushrooms or cheddar sauce – buffet only
Lemon butterfish steak with spinach potatoes – buffet only
Mushroom heads stuffed with sheep curd – only for buffet
Salad counter (iceberg lettuce, ruccola, paprika, cocktail tomatoes, cucumbers, grated carrots, corn, tuna, olives, feta cheese, mozzarella, etc.) with dressings – buffet only
Cabbage, tomato and cucumber salad or homemade mixed pickles
Meat grilled and oven-baked
Oven-baked whole piglet
Oven-baked whole duck
Chicken leg fillet with spicy barbecue sauce
Chicken breast seasoned with citrus-yogurt
Grilled tenderloin coins, prepared as you wish
Crest slices marinated in mustard
Grilled vegetables
Coleslaw salad
Garlic sauce and piquant chili sauce
Other grilled food or a great recipe of your own that your guests can't miss
Midnight meal
At night, when the guests have already had a few drinks and danced a lot, it is necessary to gather some more energy... And it can absorb alcohol, too. We serve the dishes at midnight and they can be consumed until the morning...
Stuffed cabbage with sour cream
Game or beef stew prepared with red wine and served with dumplings
Hungarian cold dishes (sausage, ham on a salad bed)
Hot dogs, sausages "Debrecen and Bavarian" style, grilled sausages
Cellar stew
Cheese counter
We guarantee that each offer is plentiful and everyone will be satisfied…
The two of you can taste the selected delicacies for free after having booked and if you want to change any of them, there is no obstacle!
In case you can't dissuade guests from bringing cookies on trays, or you want to order cookies for them, there is no problem, you can do whatever you want. Sweets, cakes can be brought in. If you don't want to take advantage of that option, you can ask us to prepare for you a chocolate fountain, an ice cream counter, some strudels or any other desserts.
Dear Castle Hotel,


I was your guest at the wedding this weekend, and I would like to express my appreciation for the beauty of the Castle and for the work and immediacy of your team. It was amazing how incredulously kind and helpful you were, doing your best to make everyone feel great. What is more, the next day we were greeted with a wide smile again, your helpfulness was continuous! The Castle and its park are beautiful, the food is fantastic – I have never eaten such a scone in my life! 🙂 "And you're professional!" We are planning our wedding next year, and we think that we have found the perfect wedding venue. Congratulations to the Team, hats off to you! 🙂


Eve and Peti from table 11 and room 11 :)
Food sensitivity, food allergy, vegan and vegetarian menu
If some of your guests would like to be provided with separate, special meals (gluten-free, dairy-free, vegan, veggie), when we fill out the scenario (2-3 weeks before the wedding), we will discuss it and figure out together how many servings of these dishes we should prepare. We will serve them on separate plates for your guests. If you mark in the seating order where the guests with special dietary needs sit, the waiters will find them sooner. 🙂
It is important to know that in our kitchen, special dishes are prepared with utmost care, but not separately. Thus, we cannot officially provide allergen-free food.
Recommended vegan dishes:

Vegetable cream soup with vegan cream (broccoli, mushrooms, onions, etc.)

Durum penne, with tomato, basil, garlic ragout

Vegetable bulgur

Baked eggplant stuffed with vegetables (with vegan sour cream, vegan cheese)

Mushroom peppers

Spinach farfalle

Pasta salad with vegetables

Fried rice with vegetables

Mushroom gnocchi with vegan cream


Tripe with trotter and bacon

🙂🙂
Ask us for an offer for your wedding by filling out a simple form! We look forward to your inquiry!