Outdoor wedding and ceremony
If you would like a wedding venue where you can have a unique, outdoor and REAL civil ceremony, the Fenyőharaszt Castle Hotel is the perfect wedding venue for you too!
After all, we have the registration on the spot, so your guests will witness the ceremony live.
You can compile the date, course and venue of the civil ceremony on your own and even the text of the solemn speech. Yes, you can decide everything! 🙂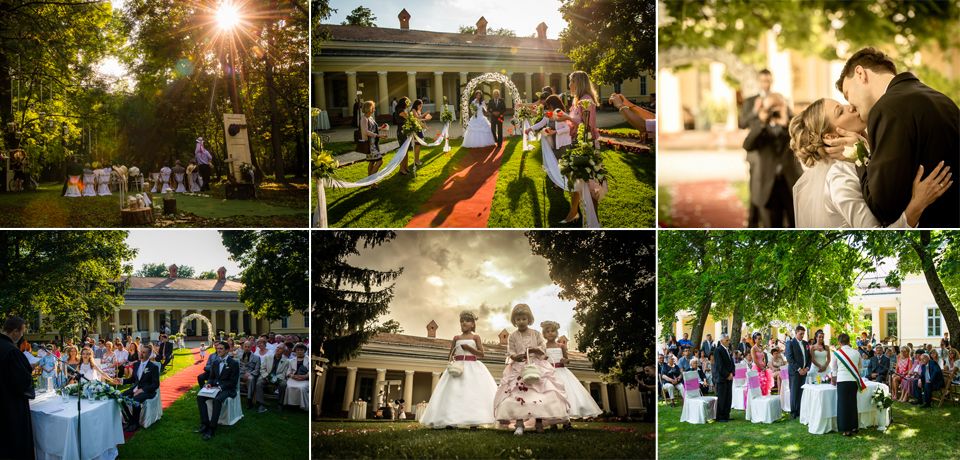 Our kind and flexible registrar is called Mónika Jurányiné Maczkó, who can be reached at the following phone number +36 30 378 7396 or at the anyakonyvverseg@gmail.com e-mail address.
In just one meeting – an appointment is required – Mónika will record your personal data in Verseg at the Mayor's Office (Pest County). So don't forget to take your birth certificate, a valid identity- or residence card and, in the case of foreign citizens, a dozen more documents. Do not worry, Mónika can tell you exactly what will be needed. She can give you more detailed information, but it is important to know that the deadline for registration is 30 days before the wedding at the latest for couples with Hungarian citizenship with unmarried marital status, and 60 days for divorced marital couples. If any member of the couple is a foreign citizen, registration is required 3-4 months before the wedding date.
When you meet her, she asks you a lot of questions, like what the names of your unborn children will be and whether you marry of your free will... 🙂
After the first meeting you can reconcile the text, and what's more, you can also weave your own and personal stories into the text, this way the ceremony will be much more personal and completely individual.
We have always heard that the ceremony of marriage is carried out with a pre-written text and script by the registrar. We wanted not only a special venue, but also a personal ceremony that was truly about us. In the latter, Mónika was a real partner: she enthusiastically and lovingly supported us in personalizing the text and script of the ceremony. Last but not least she was also a hero since during the ceremony a wasp, which came to our sunflower ornament, stung her but she continued speaking nonchalantly, lest the magic of the moment be broken! As it turned out later, she was allergic to wasp stings, and even so she remained unflinching. Thank you very much!

Moni and Andris
For the civil oath, we provide the wrought iron "gate of happiness", a burgundy carpet, a festive table and wooden garden chairs for 100 people, which, of course, are provided free of charge.
Ask us for a quote by filling out a simple form if you would like a beautiful, unique ceremony at your wedding or click on our contracting page!